We've had a busy summer term, working with children from two primary schools in the Godalming area as well as extending our well-being practitioner community, welcoming Collette Cousins, Sarah Jane Vickery and Ruth Wheeler to work alongside Mairead Amos and I.
 from left to right: Collette, Sarah and Ruth
We continued to extend the children's knowledge in yoga with sessions on 'the power in our breath', 'we are strong', 'press pause' and 'ease'. It was great to see the children develop both their understanding of yoga and their resilience to try more complex techniques and extend their time in the tent as well as trying some fun partner poses.
We introduced mindfulness to the children by seeking out the 'present moment' trying mindful eating and mindful walks around the farm. The children started their Art of Well-being Journals with an introduction to diary keeping and doodling, and they tried an art and yoga workshop where the children learnt how to express their feelings through art and created beautiful mandala stones.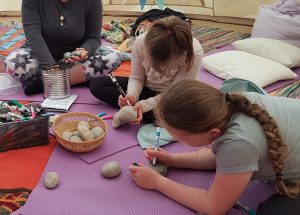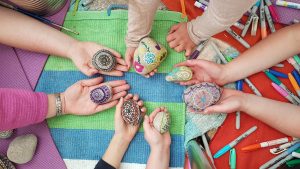 Outside of the nurture tent the children fed and tended to the goats and their billy kids Elvis, Milk and Billy, as well as rearing the orphan lambs Jack and Bella. Our rabbit kits were a hit as usual, which is not surprising given how tiny and fluffy they are. The children also took time to play and develop friendships, try out their musical skills with our boom whackers and read, colour or chill-out in the nurture tent or hammocks.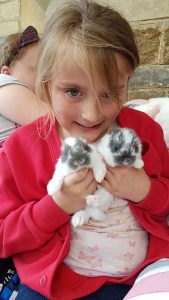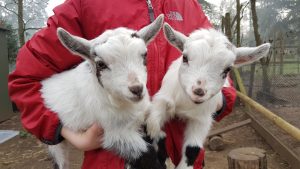 It never ceases to amaze me how much more the children get out of their sessions than what we plan for them. Targets and assessments go hand in hand with grant funding, but when we sit down and review progress it's fantastic to realise that the children often exceed in areas that we hadn't even identified. We continue to revise our assessment methodology and are looking at collaborating on research to develop more meaningful metrics.
Finally, we were fortunate to receive funding from Godalming Town Council for one of our school's programme sessions this term, which was great news. We have applications in with other funding bodies and are continually looking out for opportunities. We are also starting to look for a larger site with better access so that we can improve our sustainability by developing income generating elements to the Nurture Farm, offering private sessions, open days, farm visits to schools as well as exploring new ideas. We are looking forward to the Autumn Term and welcoming several of our children back again.