It's been a productive few months since the end of our pilot in 2019.
We were awarded National Lottery Community Funding in early January that will enable us to continue our work with schools for the next three years, helping to enhance the mental health and wellbeing of vulnerable children. It's humbling and exciting to have an organisation like the National Lottery believe in what we are doing, and will make a difference to 300 children. As soon as we are able to do so, we will be back running our programme of 12 weekly nurture sessions with small groups of children.
Our other fantastic news is that in December we were offered a new site in from which to run our sessions. This will enable us to move away from our garden site to a woodland setting, with access to fields, woods and the River Wey. It is incredibly generous of the landowner to support us in this way and we are really looking forward to working together to develop Huckleberries over the coming years. Thanks to volunteers who gave up their time at several working parties, the site is now ready for our next cohort of children as soon as lockdown is lifted, and we are hopeful that will be before the end of the summer term.
More recently we also received good news on another successful bid, this time with the Fore to buy stables for the animals so they can stay at Huckleberries overnight, a compost toilet, security cameras and solar power. This was the final piece in the jigsaw and we are hoping to have everything installed over the summer break, so that we are fully equipped for September. This was in addition to us being one of the chosen good causes with the Cooperative this year, which through customers selecting us as their cause and their carrier bag levy, we receive important funding to help meet our overheads.
When we reopen, we will continue to engage our wellbeing practitioners to deliver yoga, mindfulness, art and journaling to the children, as well as developing our nature programme, capitalising on all that our new site has to
 offer. We are excited to be incorporating more nature activities into our well-being programme as we truly believe in the therapeutic properties of immersive nature.
And on the animal side we are delighted to announce the arrival of 4 pygmy goat kids in the past 2 weeks to Mel and Choco – 3 boys and one girl. They are THE most adorable babies and we feel very lucky to have them.
And on the animal side we are delighted to announce the arrival of 4 pygmy goat kids in the past 2 weeks to Mel and Choco – 3 boys and one girl. They are THE most adorable babies and we feel very lucky to have them.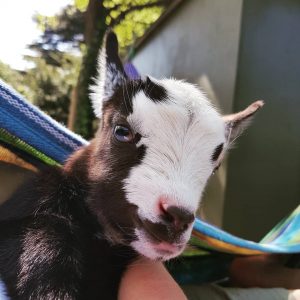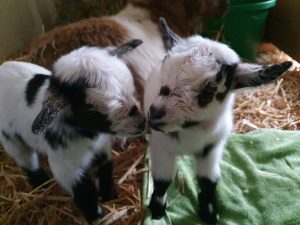 We also acquired our triplet lambs in March Zola, Beth and Bloo, which we have enjoyed bottle feeding. They are growing quickly and get on really well with Bella and Jack, who are now fully grown and waiting to be socially distanced sheared, before it gets too warm. Our lambs are on loan to us until the summer, so we are hoping that some of our children will be able to meet them before they leave.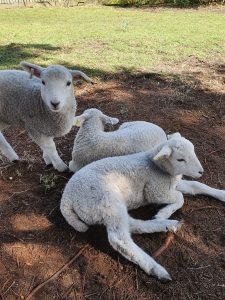 Our rabbits have continued to thrive and will be joining us at our new site, along with our ducklings, which we are expecting to hatch any day now.
We appreciate how difficult lockdown has been for some children and their families, and we will be focussing on ways to help them adjust to the changes that lifting of lockdown will bring, or the direct impact of Covid-19 on them. Some children may have become more insular or anxious whilst being isolated from their friends and daily routine, and their confidence and self-esteem may have taken a hit. Others may have suffered the loss of loved ones to the virus, or indirectly, have been worried about the safety of their key worker family members, or witnessed unpleasant actions such as domestic physical or verbal abuse. We will be responsive through the design of our programme to their needs and help them to develop coping strategies and tools to help them resolve these challenges.
At Huckleberries we will continue to offer children 'a place to be me'; providing a safe and supportive environment for them to embrace challenges, explore and value their strengths, learn to love who they are, and through therapeutic contact with our animals, nature and carefully designed wellbeing sessions, develop coping mechanisms to deal with life's ups and downs.
Your content goes here. Edit or remove this text inline or in the module Content settings. You can also style every aspect of this content in the module Design settings and even apply custom CSS to this text in the module Advanced settings.