It was fantastic to reopen Huckleberries at our new site at Broomfields Farm on 7th June, where we welcomed children from two local schools for a six-week programme. We ran six hour sessions twice a week to enable parents to bring their own children so as to meet COVID-19 restrictions, which yielded surprising benefits as everyone relaxed quickly and we were able to see changes from day one – something that we look forward to continuing in the immediate future.
Broomfields Farm is simply beautiful, and we feel so fortunate to be there.
The farm provides a wealth of opportunity through its natural, wild surroundings to enhance the children's physical and mental health and we took our time exploring and tuning-in to all that it has to offer – wading through the sea of grasshoppers as their soundtrack filled the fields, the birdsong, the sound of the wind blowing through the oak trees and long grass, the river carrying away our worry boats, the warmth of the sun's rays and the wet splodges of rain on our backs as we Yoga, learning to focus our attention on our breath.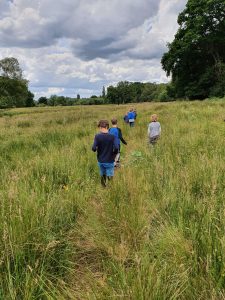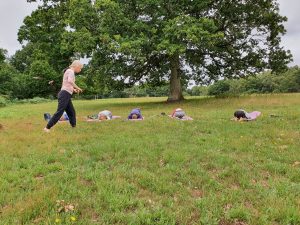 We wandered to the 'twin oaks' and 'oak row' for our journaling, to the old oak named John Bark by the children for our yoga, played hide and seek in 'pillbox woods', where the children hid amongst the wildlife waiting to be found, we dangled feet and wellies in the river, making drip castles on the strip of beach and lighted fires with striker sticks to cook marshmallows and warm wet toes.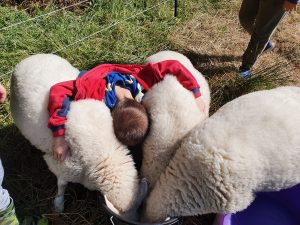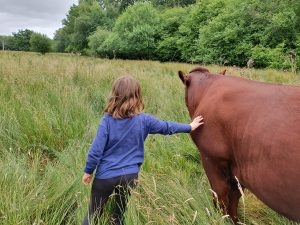 Our goat kids loved having the children to play with (and on!), and they helped them to appreciate feedback loops and resilience walking to the woods and back.
The lambs were soft to touch and the rabbits gave-in to cuddles, whilst our runner ducklings and chicks demanded a gentle hold
We also bonded with the beautiful Sussex cattle who graze the land and learnt to respect these gentle majestic beasts and their personal bubbles.
We welcomed our new nature specialist Tamzin Greggs to our Practitioners team, who set the children on building 'Huckleberries Hotel' for bugs, and planting our planters with wild flower 'seed bombs'.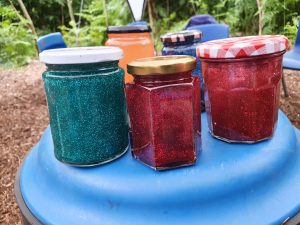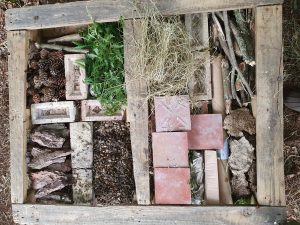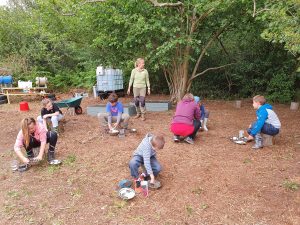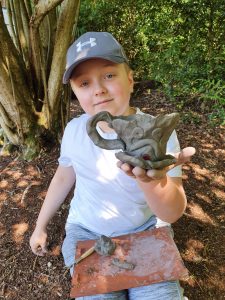 We welcomed back Sarah Jane Vickery who taught the children to observe and draw the rabbits whilst letting their imaginations run wild; and Mairead Amos who took us on a Yoga journey from calm to celebration under John Bark in the sun and rain.
We also welcomed two new session volunteers, Alyson Canton who brought her experience of working with children and love of nature to our Tuesday sessions, and Charlotte Cook who brought her love of animals and passion for the outdoors to our Wednesdays; as well as the great school staff from the children's schools, who fully embraced our activities each day. It's been lovely to see these wonderful young people explore new ways of thinking and responding during their six weeks with us, embracing everything including the scorching heat and relentless rain – we are going to miss you. Now we have a busy summer of site works to install new animal shelters, water and sinks, a compost toilet, and a sensory trail before we're back in September.